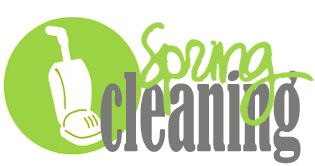 Welcome back to our Spring Cleaning Series. Yesterday, we cleaned the
washer
; today we will clean the dryer!
This is actually a lot easier than cleaning the
washer
and less time consuming. You only need about 5 minutes to do it, and you will be thankful you did! Maintaining your washer and dryer ensure they will last you!
First, spray the outside of your dryer with your
all-purpose cleaner
and wipe it down with a damp cloth to get all the dust off it.
Next, empty the lint filter.
Then vacuum out the lint filter.
Finish by vacuuming out the lint filter holder. Try to get a deep as possible to suck up and strangling lint clogging up the dryer!
Told you that was easy!
Look Alive!
<3The Mortician's Wife
Previous Posts:
All-Purpose Cleaner
Burners
Oven
Small Appliances
Floor & Prosperity
Bathroom & Tub
Washer