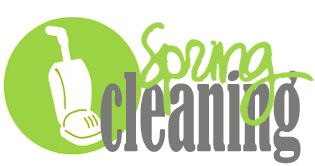 It is finally April which, in my opinion, is the best time to do spring cleaning. I generally do a deep clean twice a year; once in the spring and once in the fall. Why these times? Well, the changing of the seasons play a large role in it. Unlike a lot of places, there really is no spring and fall here. We get maybe 2 weeks of spring and fall and then its summer or winter. That's just part of living in the south I guess.
To kick off "spring" I have decided to do a
Spring Cleanin
g series which will provide you guys with some of my cleaning tips and tricks as well as my favorite cleaners. Apart from dishwasher detergent, laundry detergent, and dish soap, I make everything. Why do I not make dishwasher detergent and laundry detergent? Because the products I use are WONDERFUL and I love them. In fact our Laundry detergent, Gain powder, was one of Good Housekeeping's top rated laundry detergent. Nothing gets pit stains and deodorant stains out like Gain!
But anyway. Cleaning your house is often mundane and frustrating, but it shouldn't be. In fact, cleaning your house is a very magical act because 1) everything is connected and 2) your internal environment mirrors your external. So, by cleaning your home you also help clean your mind, body, and spirit. A clean home increases happiness, clarity, energy, and health. If you look at cleaning your home as a magical act, it should help make the experience more enjoyable. Lately I have forgotten this fact, but after deep cleaning several items yesterday in preparation of this week, I realized how fun and relaxing cleaning actually is. Furthermore, cleaning helps activate and empower the natural energies in your home, dispersing negative energies and stirring up the positive.
To kick off the cleaning season, I want to share the recipe for my go to cleaner and what I use it for. Using green cleaners helps you acknowledge and honor our Mother Earth. Plus, faeries are more likely to hang around your home if you use natural cleaners instead of poisons and toxins, but we'll talk about that at a later date. My All-Purpose Cleaner is green and contains only two ingredients; water and vinegar.
1 part vinegar
1 part hot water
Fill a spray bottle half way with vinegar then with hot water. Cap and shake. Use often.
Simple yet effective. Vinegar is a mild disinfectant and will disinfect your counters without harming you, your pets, or the environment. I use this cleaner for EVERYTHING, especially in my kitchen where toxin chemicals can contaminate your food.
First, I clear my counters of everything. Next, I spray the counters with a think coat of my All-Purpose Cleaner.
I let the cleaner sit on the counters for 5 minutes. Next, I wet a wash cloth and wipe down the counters. If you are going to sweep afterwards, just wipe the crumbs on the floor. If not, collect the in your hand or in the wash cloth.
This mixture will cut through grease if allowed to sit for 5 minutes. As you can see it got all the sauce off the stove top, but not the cooked on food in the burner. I will share a recipe tomorrow on how to get that particular grime off. However, if you clean up messes soon after their occur, you shouldn't have build up like I do. The build up, however, is now disinfected, so you don't need to worry about germs anymore.
This mixture is also safe on cabinets, floors, appliances, sinks, windows, wood furniture, showers, toilets, and just about everything else. Do not use this on electronics. In fact, don't use anything liquid near or on electronics. You'll ruin them.
Happy Cleaning!
<3The Mortician's Wife
All Posts:
All-Purpose Cleaner
Burners
Oven
Small Appliances
Floor & Prosperity
Bathroom & Tub
Washer
Dryer
Baseboards