Well, yesterday was a total fail...well almost. I had an extremely rough morning yesterday, first waking up at 4 am with a tooth ache and then finally falling back to sleep only to have an awful nightmare and wake up again at 6 am balling. Due to the lack of sleep and the fact that I was just exhausted from Monday after working a double (both lunch and dinner closing shifts) I slept in later than I normally do. Even after sleeping in I was still exhausted and mentally drained from the dream.
The rest of the afternoon went somewhat smoothly. As soon as I walked into the door at work we had a 25 top waiting along with several other parties and only 1 server in the entire restaurant. Crazy. After the lunch rush I received a call at work asking if I could interview as soon as I got off for a nanny position. That, of course, was some good news especially since the family had already hired a nanny and by a stroke of luck for me, things didn't work out. I'm fairly certain I have the job which will be supplemental to my hostess job.
After leaving the interview, shit hit the fan again. I got stuck in awful traffic only to sit in it for 2 hours just to travel 5 miles. No joke. 5 Miles...the majority of that 2 hour trip was spent literally 500 feet from the entrance to my complex. Why? Some idiot ran into an electric pole, knocking out power across town and the jackasses fixing it decided that needed all 5 lanes, blocking entrances to all the complexes in that area for over 2 hours. Honestly, they only needed 2, maybe 3 lanes. They easily could have kept traffic moving by opening the other 2 lanes and diverting rush hour traffic around the workers. Not only did they prevent many of us from getting home, they backed up traffic so bad on the highways that they were at a stand still as well until traffic flow continued. It was incredibly ill handled.
BUT ANYWAY! I didn't get home until 8 last night and then had to deal with my mom bombarding me about my tax information while I'm trying to cook dinner, eat, and relax before heading to bed. I hope today is less stressful and life takes a day off. I need it!
So I apologize for not posting yesterday as intended. Sometimes life happens and beats you to a pulp and all you can do is take it. So I am posting about my mantle today instead of yesterday and we won't have a recipe again this week. Sad, I know.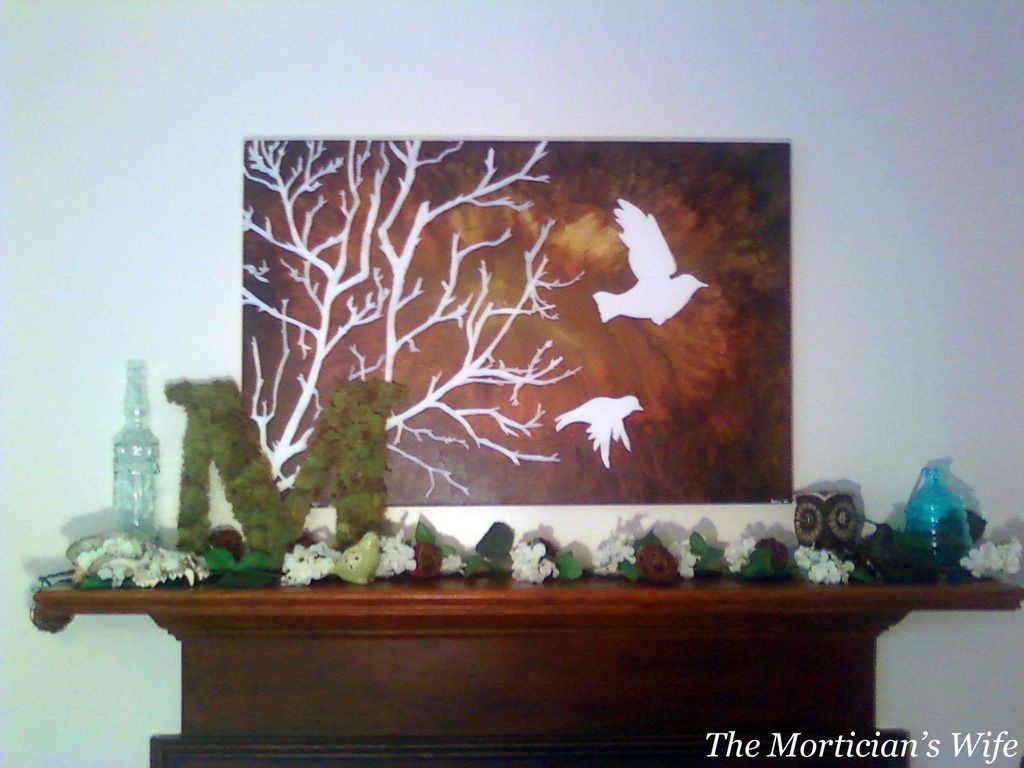 As you can see, the
moss letter
ties in greatly with the spring flowers!
This is a new bird in my collection. I purchased him at Michael's for only $1.50. He and another white bird I purchased the same day, were on sale for 50% off. I couldn't resist a deal that good!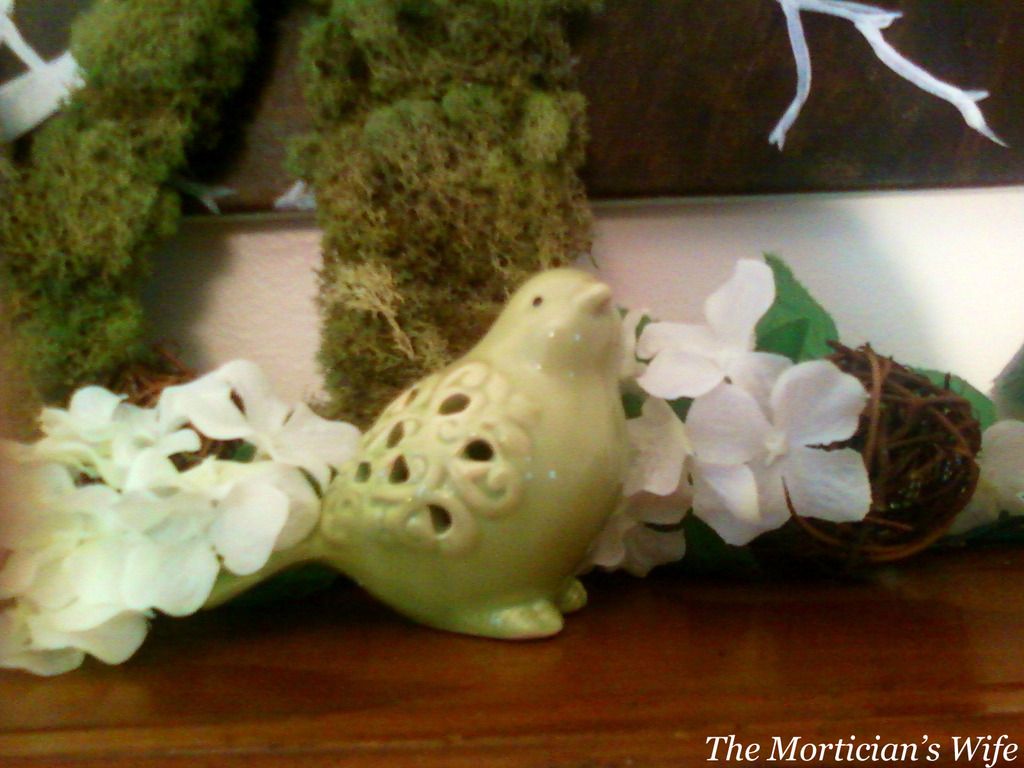 And my constants still look amazing in the flowers! For some reason I can't get that picture to lighten up without totally bleaching out the color. Oh well!
Have you decorated from spring?
Look Alive!
<3The Mortician's Wife