Welcome all party goers! As a special treat, I have put together a tutorial on how to make the beautiful holiday wreath that is currently adorning my door this month.
Grape Vine Wreath
Thin Branches (I collected mine from my backyard)
Willow Branches (Curly branches)
White Spray Paint
Ornaments
Floral Decorations
Optional: Floral Wire (I didn't use any but you may want too)
First gather your grape vine wreath. If it has leaves in it, remove the bulk of them.
Next, remove the leaves from your branches if there are any. As you can see from mine, they are thin, very thin. If you can't find any in your yard, try purchasing some from the craft store. Remove the leaves from your branches if they contain any and start feeding them into your wreath until you have something like what is pictured below. You can secure your branches with floral wire if you like, but if you feed them well enough you don't need the wire.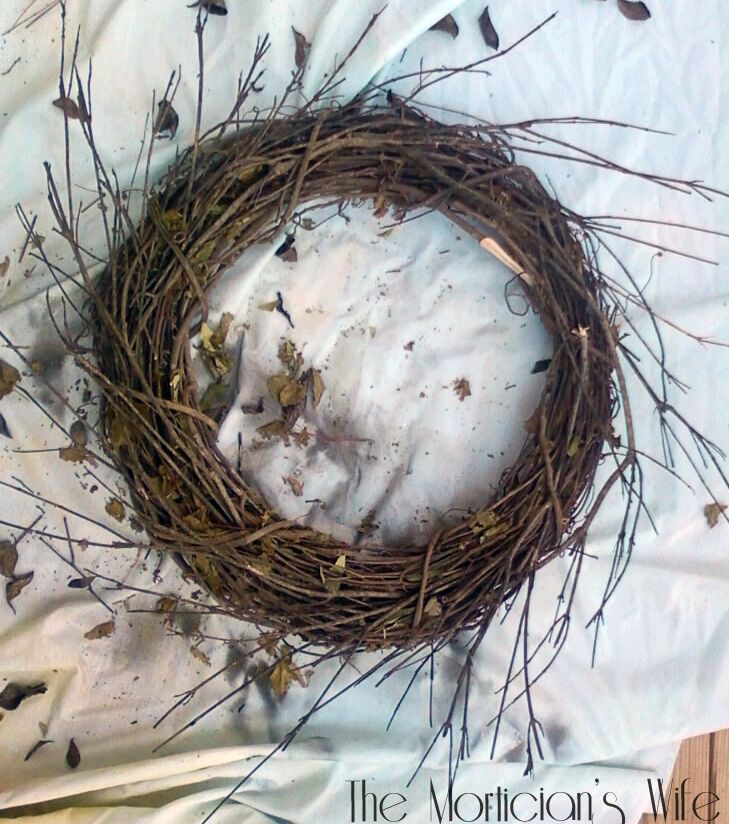 Next, spray paint your wreath white. Only spray lightly, though. You don't need to put a thick coat on the wreath. You want just enough to give it a white appearance but leave it snowy looking. If you like, you can use spray snow. The point is to achieve a snowy or icy looking wreath.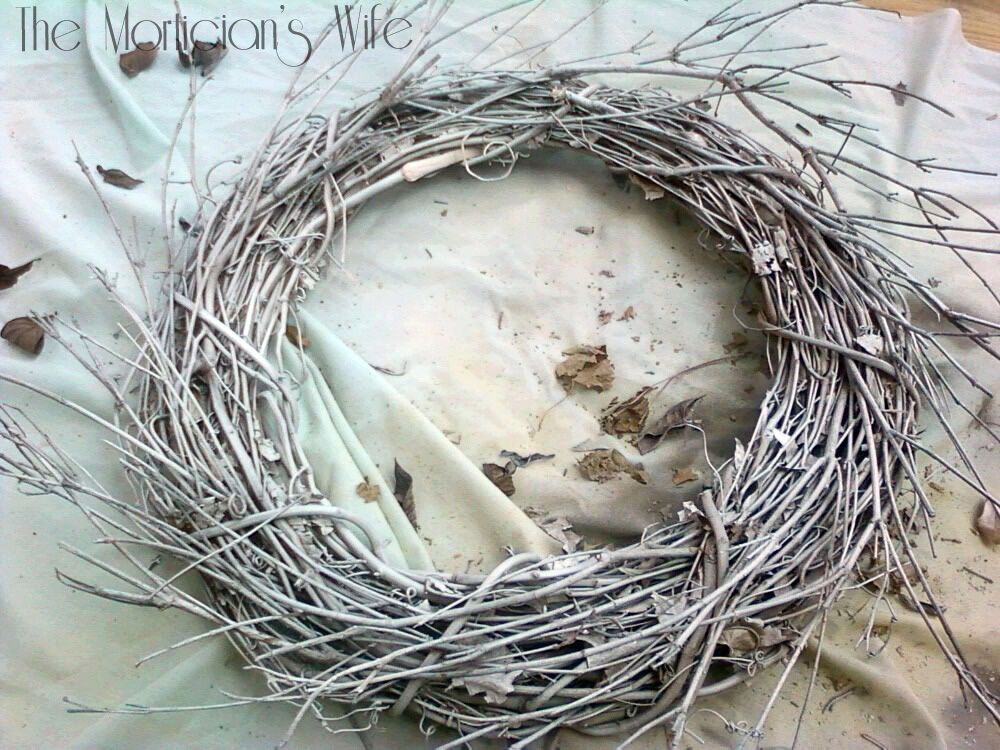 Next, feed your willow branches into the wreath. Since I bought silver branches, I didn't need to paint them before feeding them into the wreath. If yours are not already white or silver, add them before you paint the wreath.
Next, gathering your floral decorations. I sprayed the ends of mine so you wouldn't see the brown within the wreath.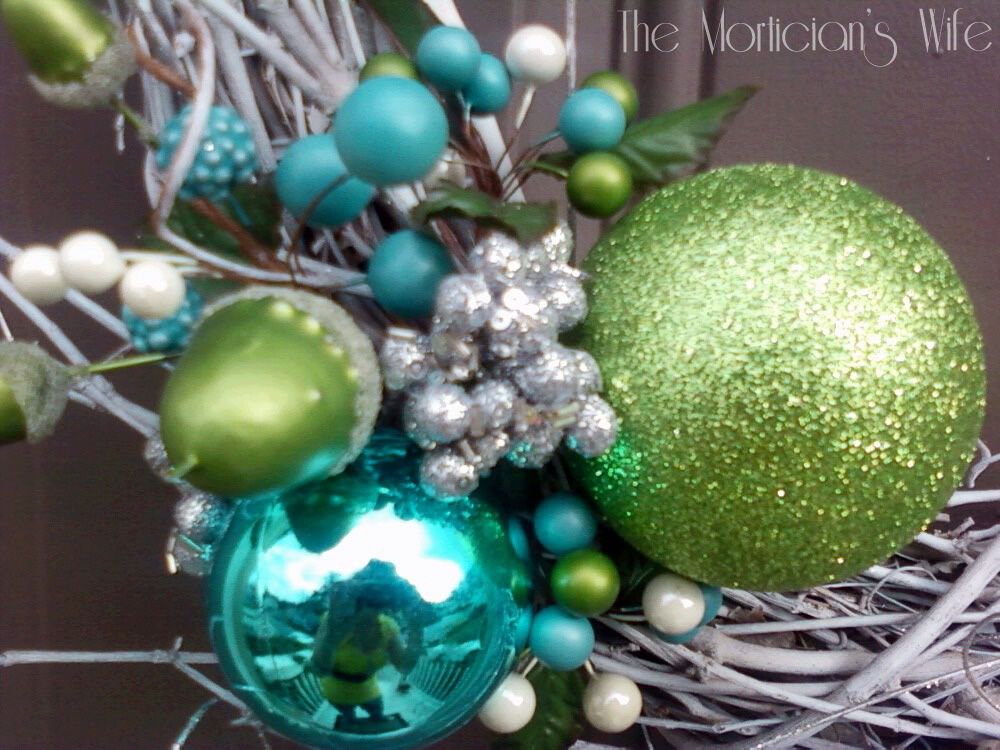 After they dried, I broke about the silver beads and put three clumps throughout the wreath. In the lower left corner, I added the ornaments (1 large and 1 small) using the left over wire in the sprig. If you don't have left over wire, you will need to purchase some. I then clumped the beads and acorns around the ornaments to give it a finished look.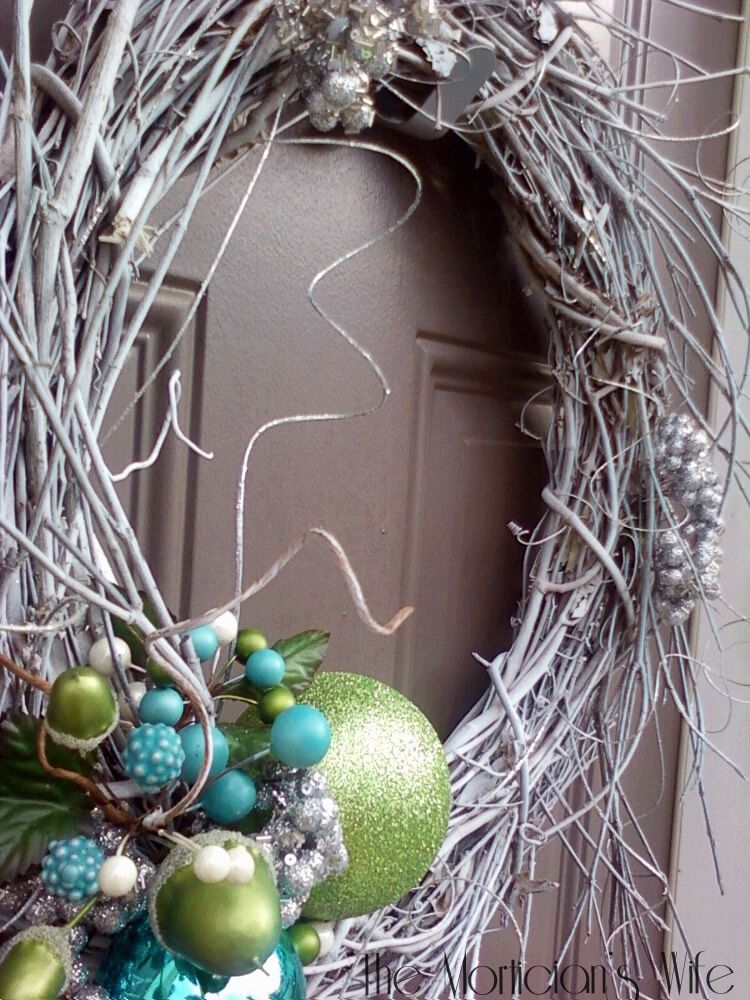 Finally, hang your wreath up and enjoy!
This project only took me about 30 minutes and turned out fantastic. Total cost was around $12. To buy something like this in the store would cost you between $20 and $50. Just to buy a wispy wreath is $20! I paid $5 for the grapevine and nothing for the branches (except the willow branches which were $2)!
I hope you have enjoyed my tutorial and wreath and have fun blog hopping!
Look Alive!
<3The Mortician's Wife