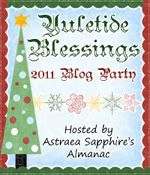 Welcome fellow party goers. I apologize for my tardiness, but family matters and work took president yesterday and I was unable to post as I wished too. I hope that you will still enjoy my post regarding our Yule Tree.
In November we were lucky enough to come across a Christmas Tree outing for four for only $35! I couldn't believe it! In the package was a 6 foot tree, 2 s'mores, a hayride for 4, access to their petting zoo, and slide rides for kids. We don't have any kids, so just the the Mortician and I went on a Thursday afternoon when NO ONE was there.
First, we stopped and pet all the miniature goats, frolicked with the chickens and loved on the pig.
Next, we picked out a tree. The selection was thin as they had no unloaded their truck yet, but we found one instantly that spoke to us. Fortunately it fit into my little car. Yes, we actually stuck it IN the car not on it.
Normally they require at least 10 people for the hayride, but the owner took the two of us out anyway to feed the cows. I love cows.
We ended our day by buying some local honey (great for allergies which the Mortician has) and some homemade peach cider. Both are delicious although I won't be partaking in the honey too often.
This is the first time in my life that I have ever had a real tree and I have to say I am excited. We finally get to cut our first Yule log, which I am looking forward to in the coming weeks.
Traditionally, the Yule Log is cut from the past year's tree or from the same location as the tree and burned on Yule or as part of Christmas to honor the God and bring good luck in the coming year. A piece of the log is saved to kindle the fire for the next year's holiday fire.
Don't have a fire place or don't want to deal with the mess of acquiring a Yule Log? No problem! As the tradtion has been passed down, people have altered it to suit their needs, the most popular being the Yule Log cake, a chocolate cake decorated to look like a Yule Log. Recipes regarding making a Yule Log Cake are endless!
Do you have a live or artificial tree? Do you partake in the Yule Log tradition?
Look Alive!
<3The Mortician's Wife