Now that Thanksgiving is over, the December holidays are quickly approaching which means decorations, gifts, and food stuffs. Getting these things of course costs money and, depending on how you shop, it can be pricy. In order to control your spending I created a
free printable holiday budget
! On top of it being free, it is also editable so you can add what you need and delete what you don't!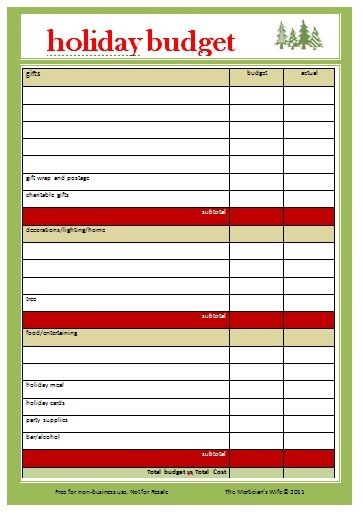 The Mortician and I tend to budget for food and decorations, but not so much for gifts. Its a general understanding that gifts should be smaller, meaning they aren't that expensive. Instead we put a limit on the number of gifts this year. We get 5 gifts each, but that doesn't necessarily mean we only get 5 things. For example, if I bought him under shirts I would probably get 2 packs instead of just one or if I bought candy I'd buy a couple Reese's instead of just one. But you get the picture.
Have fun budgeting for the holidays! Remember, sticking to a budget will eleminate frivolous spending, especially during the holiday. When picking out gifts, make a list first then go shopping. This will also stop you from buying needless gifts. Something to keep in mind: Always ask yourself "Is the So-and-So going to use this? Enjoy this?" If the answer is No, do not buy the gift. Sometimes we get so caught up in the gift giving season that we forget what people really want, need, or will actually use.
Have a Happy Holiday!
Look Alive!
<3The Mortician's Wife