As I mentioned in my first post for "31 Days of Halloween," this is the first year I am personally decorating my own place. This being the case, I have had to acquire some Halloween decorations, at least enough to make the house feel like Halloween.
As you may have guessed from the title, I am doing this on a budget. With only the Mortician working and our desire to pay off our debt quickly, we don't have much money left over for decorations or anything else for the matter. So how am I doing it?
1. Shop at Dollar Stores and for Sale Items
First of all, I shop at the Dollar Tree. So far you have seen my mantle, floral arrangement, and birdcage, but each of these has been decorated using stuff I bought at the Dollar Tree. The fall leaf garland I purchased is roughly 4 feet long. I have so far bought four links, spending a grand total of $4 on garland. I found the same garland in a pack of two at Big Lots for $5 a package. So $10 or $4? I think I'll take the $4!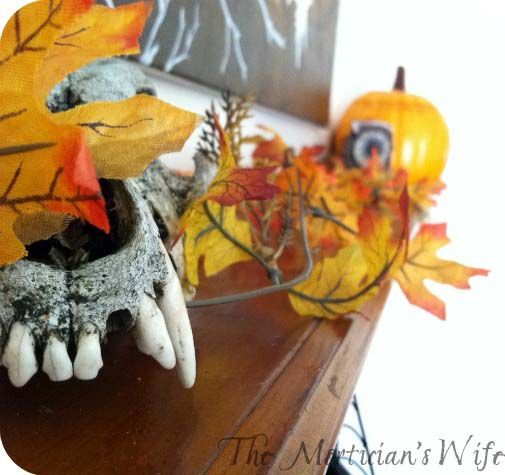 The ravens? Also from the Dollar Tree. I only purchased two, obviously, but that was all I needed for this year. After buying them, we visited the Party City next door. The same ravens were for sale there for around $2 each. Spend $2 or $4? I'm going with $2 again on this one!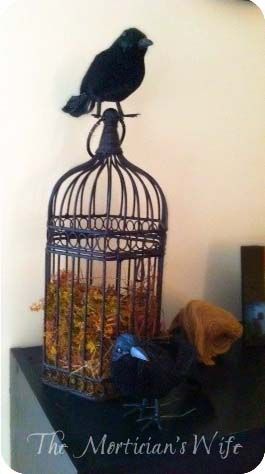 The same goes for the fall floral arrangement. I bought three springs for $3. The same looking sprigs cost between $2 and $5 at Micheal's; clearly the Dollar Tree is a better option.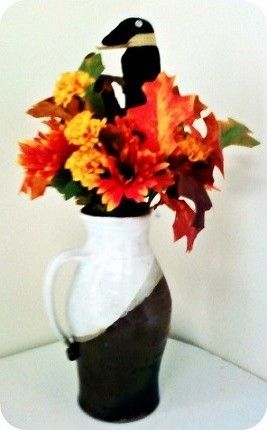 I have several other decorations I picked up from the Dollar Tree too, including a gargoyle statue, pumpkin spice candle, ceramic pumpkin, and spider webbing. Comparing them to Michael's and Target, I saved between $15-$20 by shopping at the Dollar Tree. I'll show you what I've done with each later in the month.
2. Get Creative
Making your decorations is also a great way to save. I have currently made a wreath and a Halloween tree with ornaments, all for a few dollars. Again, these will be posted later in the month, but I'll give you totals now. The wreath cost $12 dollars to make. To get anything remotely similar and around the same size would cost over $20. My Halloween tree and decorations? I only spent $5 making it. Comparing to one in the store, I've saved at least $30, but its probably a lot more.
Just get creative when it comes to the holidays. You needn't buy everything nor buy the most expensive stuff to decorate. Can't think of anything? Go to the stores and see what they are selling. Most of the stuff you can easily make. For example, a 3 pumpkin felt runner from Target costs around $6. You can make it for less than $2 by buying some felt, cutting out the shapes, and stitching them together. No reason to spend so much money for something so simple!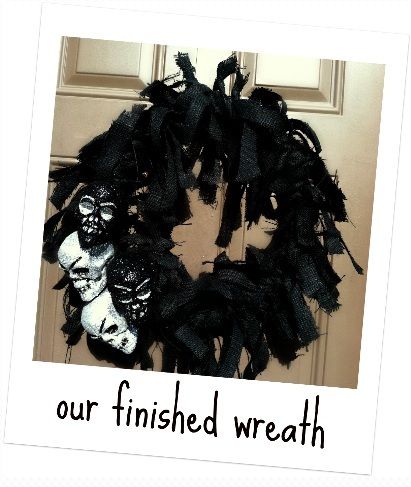 3. Shop Day After Sales
I have never been able to do this, simply because I've never had a reason to spend money on decorations I had no use for. However, this year I plan to get up early and shop the day after sale for Halloween decorations. Each year I'd like to add more items to my collection. However, only buy things you plan on using. There is no point is saving a bunch of money on a item you never plan on using. In the end, you are just wasting money. If you don't love it, don't buy it!
How are your decorations coming along? How do you save money? Are there any particular stores you think have the best deals? Let us know!
Look Alive!
<3 The Mortician's Wife