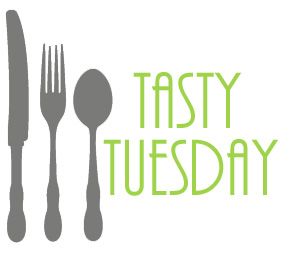 Growing up, my mother made several traditional Swedish dishes around the holidays. Being almost entirely Swedish herself, she felt it was the best way to connect with her heritage. I'm very proud to say my family hails from Sweden, and I was very upset when I could no longer partake in Swedish Meatballs during the holidays. So what did I do? I veganized the recipe! This recipe is perfect for the holiday season or all year. If you eat seasonally, this is a fall to winter dish. I have had a lot requests for my Swedish Meatball recipe, so without further ado, I'd like to present it to you. This recipe is vegan, but can easily be modified to include animal based products.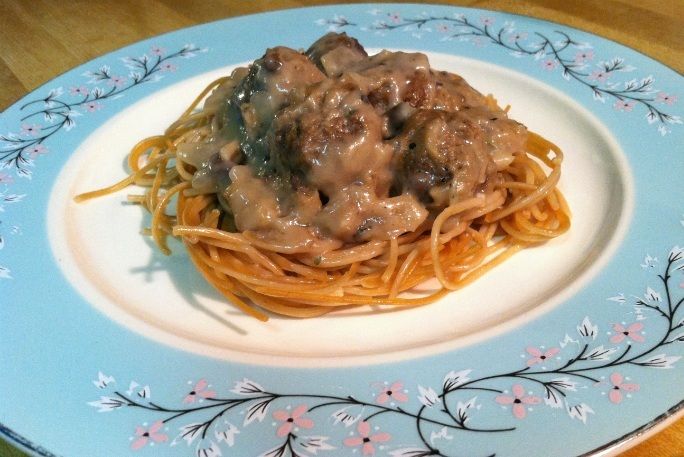 Ingredients
1 pkg veggie meatballs (your favorite brand)
1/4-1/2 onion, diced (this depends on how much onion you want. We use 1/4)
1-2 cloves of garlic, diced (again, depends on how much you want)
1 tsp basil
1 tsp oregano
1 tsp rosemary or thyme
1 can mushroom gravy (I use Kroger's Value Brand)
1-2 large spoon fulls of Tofutti Sour Cream
whole wheat pasta
Directions
Serving Size: 2-3 (double the recipe to serve a family)
Preheat oven to 350. Cook the whole wheat pasta according to the box. Foil a baking sheet. Evenly space the meatballs on the baking sheet. Cook in the oven for about 10 minutes.
Meanwhile, saute onion and garlic. Once the onion is translucent, add basil, oregano, and rosemary/thyme. Cook for 1 minute. Add the can of mushroom gravy and spoonfuls of sour cream. The mixture should turn a beige color. Stir in completely. When the mixture turns a darker brown color, add the meatballs and cook for 5 minutes. Remove from heat and serve on top of pasta.
This dish goes great with green beans, corn, or bread spread with traditional Swedish lingonberry jam. I love lingonberry jam. My mom generally buys it around the holidays as a treat, making it all the more delicious.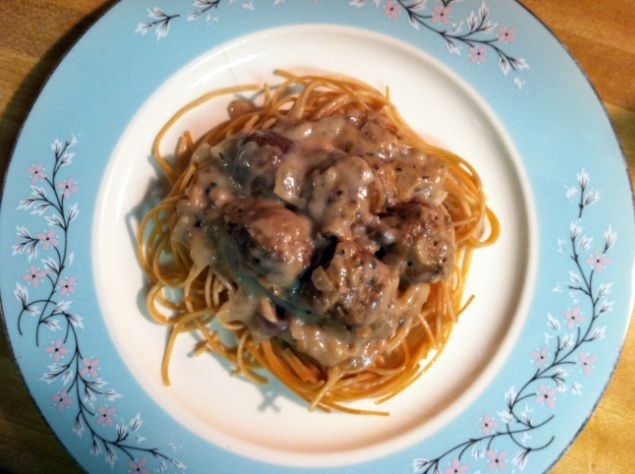 I hope that you enjoy my recipe. What is your favorite traditional recipe? Feel free to share it. Is there a recipe you are interested in seeing me veganize? I love to experiment!
Look Alive!
<3The Mortician's Wife