Today's post is very simple, so I hope you weren't expecting something grand. :)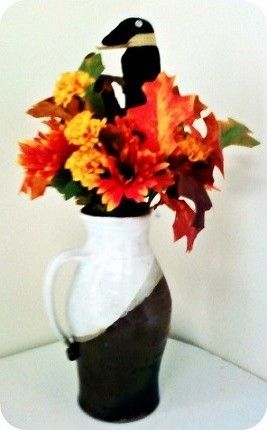 As part of my fall decorations, I changed out the contents of my favorite vase. I actually bought the vase in a school auction for $30. It was handmade from one of our pottery professors. The moment I saw it, I knew I must have it. Its actually a pitcher, but it works better as a vase, with or without water.
Prior to changing out the decorations, it contained some lime green and purple tissue paper the Mortician used to wrap one of my birthday gifts last October. Yes, I held on to it. It was beautiful and worked great as a decoration. You should try it sometime!
I picked up some fall leaves and flowers at the store, three sprigs to be exact, and mixed them together, forming the arrangement you see in the pictures. The crow was handmade by a student at my college two years ago. I keep it in the vase all year as crows are my favorite animal, and it works great which this set up. The crow is actually very simply constructed. It's felt sewed together, stuffed, and stuck through a wire stake. Pretty simple, so you could probably make your own. If not, Joanna's Fabric has some beautiful crows on sale at the moment with the same antique look.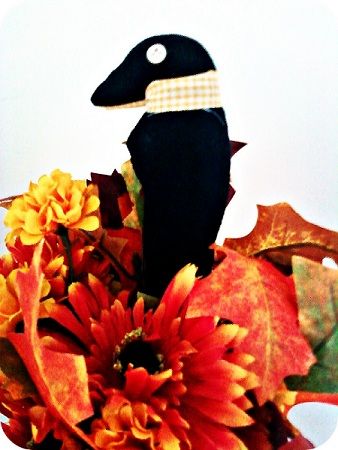 Do you have a fall arrangement?
Look Alive!
<3The Mortician's Wife